Bullying
One of the most frequent complaints raised by employees is that they have been 'bullied'. Each person will have a different understanding of what they consider to be bullying behaviour and what is and isn't acceptable in the workplace. Bullying complaints are often relating to a specific individual at work and in many cases this individual will be the employees direct line manager.
FREE initial consultation
Contact us today to speak to an Employment Law specialist
Get in touch
Although the term 'bullying' is often commonly understood to be behaviour that hurts another either physically or emotionally, there is no actual definition of 'bullying' under employment law. The closest definition is that for harassment which arises from discrimination legislation (the Equality Act 2010), where an individual is harassed because of a protected characteristic they possess (related to their age, race, gender reassignment, sex, disability, sexual orientation or religion/ belief).

The general definition of harassment is where 'A person (A) harasses another (B) if (A) engages in unwanted conduct related to a relevant protected characteristic which has the purpose or effect of either:
Violating B's dignity, or
Creating an intimidating, hostile, degrading, humiliating or offensive environment for B.
The important point to note here is the use of the words 'purpose or effect', meaning that harassment can still be found to have happened, even when not intentionally. Often when an individual is challenged about their behaviour, they will argue that they 'did not mean to' upset/intimidate etc, but this would not be a defence for a claim of harassment.
Bullying in the workplace can take many forms with either physical, verbal, or non-verbal conduct and may include the following:
Physical and psychological threats
Overbearing and intimidating levels of supervision
Inappropriate and derogatory remarks about someone's performance
Being set up to fail
Swearing and sarcasm
Being frozen out of meetings and/or social events
Different treatment to others
Sometimes it be a fine line between what amounts to bullying behaviour and what amounts to a manager requiring high standards from an employee (in a non-aggressive manner).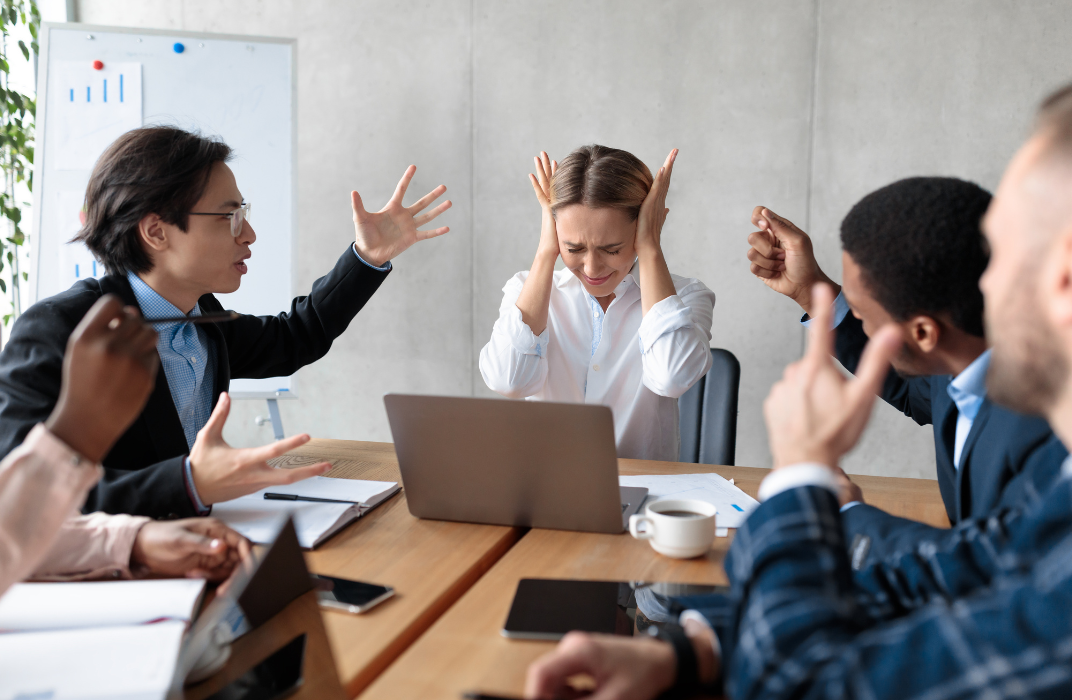 What potential claims can bullying behaviour in the workplace lead to?

Health and Safety Obligations
All employers have a duty to provide a safe workplace for their employees under the Health and Safety at Work Act 1974. This requires employers to protect the health, safety and welfare of its employees, which would include providing an environment where employees are not being bullied. The failure of employers to adhere to this could lead to potential claims for compensation, including where an employee is suffering from work related stress.
Constructive (unfair) dismissal
Typically, in a bullying scenario an employee will claim that the implied term of mutual trust and confidence has been broken by the actions of the manager/employer. This is a fundamental clause in every contract of employment and breach of this may give the employee the right to resign and claim constructive dismissal, as long as they have been employed for more than two years.
However, this is potentially a risky strategy for an employee to take as if they are unable to show a fundamental breach of their contract then they are deemed to have just resigned from their post. That said, in bullying situations where the employee is looking to leave in any event due to the treatment they are/have been receiving, it may be a risk they are willing to take. The maximum compensation awarded in these types of claims is the lower of 52 weeks salary or around £90,000.
Discrimination claims
Employees who are bullied (harassed) because of a protected characteristic will also have a potential claim for harassment under the Equality Act 2010, a form of discrimination. This type of claim can still be made whilst the employee is employed and does not require them to resign before launching employment tribunal proceedings. Compensation in these claims would include an award for 'Injury to feelings' as well as any financial losses incurred. Employees have a right to not be discriminated against from day one of employment (no two-year qualifying period) and there is theoretically no cap on the compensation that can be awarded.
Protection from Harassment claims
A more complex type of claim that an employee can bring through the usual court system (in the County Court rather than in an Employment Tribunal) is a claim under the Protection from Harassment Act 1997. Under this piece of legislation employers can be held vicariously liable for acts of harassment committed by their employees. These claims can arise where the employer engages in a course of conduct (more than once). If successful, the employee can bring a claim for compensation for injury to feelings and compensation for any financial losses suffered.
Although these claims are potentially more difficult for employees to bring, these harassment claims do not have to be based on a protected characteristic (unlike discrimination claims), so could be made for any reason at all, such as two employees simply not getting on.
Options for employees and how to deal with complaints of bullying?
From an employee's perspective, bullying claims such as this will rarely resolve themselves without further action being taken. If the employee says nothing, it is likely that the unwanted conduct of the colleague/manager will be deemed as acceptable and will continue, if not escalate.
Employees could first of all seek informal routes of resolving matters, possibly by speaking to the individual involved to notify them of how their conduct is making them feel. In some cases, this may be enough to resolve the matter.
In many cases, employees will consider it appropriate and necessary to raise a formal grievance which the employer will need to deal with carefully and in line with any grievance policy/ ACAS guidelines. If following the grievance, the employer agrees that a manager's conduct is deemed to have fallen below required standards, the employer may choose to:
Provide additional training for the manager
Provide mediation between the parties to try and resolve the issues
If appropriate, follow a disciplinary route for the manager, following published procedures and giving a warning or even dismissal if warranted
Move one of the parties permanently, especially in cases where there is not a clear-cut case of bullying and potentially fault on both sides. In these cases, it is likely to be clear that the two individuals are no longer able to continue working together
Although many employers will deal with complaints of bullying and harassment under their usual grievance procedures, some employers will also have a separate policy that will provide for more investigation and detail in recognition of the seriousness and sensitivity of bullying complaints.
From the employer's perspective as well as demonstrating internally to their employees how seriously they treat bullying conduct, it may also help to establish a 'reasonable steps defence' to any claim made against them under the discrimination legislation by demonstrating that they took all the steps they could have to prevent it happening.
Free Initial Consultation
Contact us today to speak to an Employment Law specialist
Get in touch